Are you inversion curious?
The Handstand club is for regular yoga practitioners who want to play with a more concentrated handstand practice. We will do drills for strength, mobility, and balance.
You should be comfortable in our Level 2 classes and have a general sense that you want to handstand. All levels welcome- from wanna-be handstands to people who want to play with pressing.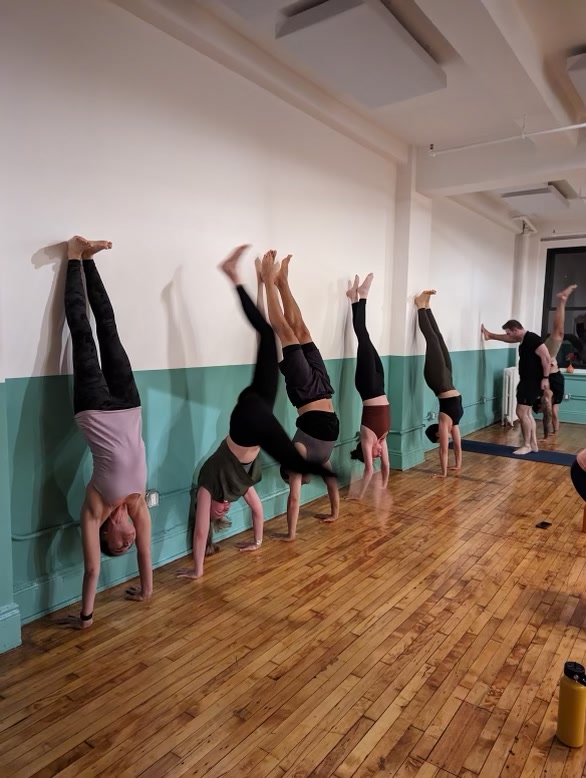 We will meet specific Thursdays from 7:15-8:15pm, come to some or all!
April 20th
May 18th
Join us for 6 days and 6 nights of Yoga, Magic, Myth and Mexico. (plus one excursion)
My favorite beach town, Puerto Morelos, offers beautiful sunsets and breezes, a local flair, and beach life. I have been coming here since 2001 and it's still a super sweet and off-the-tourist-track place to exist.
A short ride from the Cancun airport (away from Cancun), you will be greeted and welcomed into the beautiful Villas Shanti, a boutique yoga retreat center hosting yogis all year round with love and care.
Deposit of $500 by April 7th to secure your room and to access the Early Bird Rate. All balances are due by April 21st. Registration after April 21st will require a full balance paid.
Sign up or ask questions by emailing us here
Pricing:
Shared Room: Early Bird: $1899 total ($500 Deposit + $1399 Balance) w/ a deposit by April 7th (after $2199 total)
Single Room: Early Bird: $2699 total ($500 Deposit + $2199 Balance) w/ a deposit by April 7th (after $2999) (limited supply!)
*Please note:
– Final Balances can be paid by check, cash or CC. Full & Final balances paid by CC will incur an additional 4% fee to cover the CC fees.
– We cannot guarantee you a roommate match, so best to sign up with your roommate in mind. If we are unable to match you with a roommate you will need to upgrade to paying the single rate!
Includes:
Room: Shared or Double
Food: Daily abundant brunches and all dinners except one
Yoga: 2 classes on full days, one welcome class Saturday, May 13th
One Excursion
Not Included:
Airport Transfers (about $40 each way per person via cab)
One Dinner
Additional Excursions
anything else not listed in the inclusions

Questions:
Fly to: Cancun Airport on Saturday, May 13th
Depart anytime Friday, May 19th
Refunds? No
Me at Villas Shanti in 2003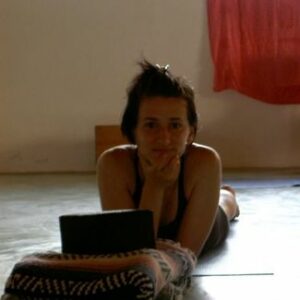 Saturday we meet 2-8pm
Sunday we meet 1-6pm
Flexibility: Principles, Practices, and Purpose
Flexibility is one of the most popular, and sometimes controversial, topics of the last decade. While it is arguably overrated, it is not as dangerous or detrimental as is often claimed. Moreover, stretching and yoga appear synonymous in the mainstream media and the reaction within the community tends to either glorify or deny the entire notion. Enter Jules Mitchell, author of Yoga Biomechanics: Stretching Redefined, to help you explore both perspectives while empowering you with education to make informed decisions about why to stretch and when it matters.
This weekend course is designed to provide an in-depth exploration of what stretching is and how to do it effectively. By the end of this workshop, participants will:
– Distinguish between the 6 different stretching modalities.
– Incorporate a variety of stretching techniques into yoga sequences.
– Learn how to increase range of motion safely and effectively.
– Understand eccentric contractions and the latest research.
– Master muscle physiology and how load fits into the stretching narrative.
– Explore connective tissue mechanics in multiple contexts such as pain, injury, and ROM.
– Question the physical, mental, and emotional benefits of stretching practices.
– Recognize common stretching myths and misconceptions.
– Gain the knowledge and skills necessary to confidently talk about how stretching works.
Jules has spent the last decade teaching yoga teachers about the science, biomechanics, and physiology of stretching. Join her for her comprehensive stretching course that will take your education to the next level. Suitable for yoga teachers of all levels, as well as any individual interested in learning more about stretching practices, this course is about stretching your minds as much as your bodies.
This weekend's workshop will sell out!
50% refund if you cancel by Sept 10th.
We will not be able to offer refunds or credit transfers for this workshop after Sept 10th.
Early Pricing is $350 by Sept 15th and $450 after.